Well the time has come to admit here in safe company, that yes, Im addicted to instagram.
I know what your thinking, that if she has enough time to search her instagram feed then she needs to work harder.
Well, Ill have you know, its all in the name of product research I do this for. To be an aficionado on the matter takes hours upon hours of detailed research. So yes, I do feel qualified and bug eyes enough to bring to you this next blog, regarding nail trends.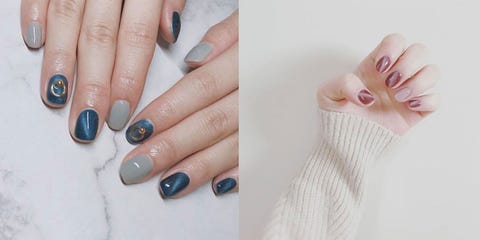 From negative space nails to talons emblazoned with slogans, we were spoilt for choice at fashion month. But it looks like there's a new, Instagrammable mani trend on the block.
Enter cat eye nails.
According to Pinterest, saves for Cat Eye Manicures have increased by an enormous 792% and it seems the feline-inspired craze is also making waves over on Instagram, having amassed over 51K hashtags and counting.
Just like actual cat eyes, cat eye nails capture and reflect the light at every opportunity, almost making them appear a little bit geode-y - and seeing as we're all majorly obsessed with crystals at the moment, it's a look we're pretty much sold on.
So ditch the glitter and save the ombre for another day - here's all the cat eye nail inspo you need.
Move over foil nails. The cat eye mani is the new way to wear precious metals and we're mesmerised.
Two Tone 
With pink and gold tones, these nails are a cross between a cat eye and the Milky Way - and we're so into them.
If any design is going to sell us on moss green nail polish, it's this. That shine, though.
Black and purple is officially the chicest colour combo when it comes to dressing your nails.
This gunmetal grey design looks amazing on shorter nails.